Salicylic acid is a common remedy used in most acne treatments. But what exactly is it? Salicylic acid belongs to a group of drugs known as salicylates. Salicylic acid works by helping the skin shed off dead cells and reduce inflammation and redness. This helps reduce pimple breakouts as well as speed up the healing process.
When you are looking to treat whiteheads, blackheads, and pimples, consider getting a treatment that has salicylic acid. While most companies that make face wash integrate salicylic acid, it's important to note that not all face wash is equal. To aid you in making a wise choice, we have reviewed some of the best salicylic acid face wash that you can find in the market today.
1. Best Overall Acne Treatment – Exposed Skincare
Exposed Skincare is a relative newcomer to the acne treatment space, but it's created quite a buzz in its short time on the market, given it's stated 98% success rate, it's clear why.  The results speak for themselves, just look at these Before and After Pictures.
More than just an acne face wash, the full kit from Exposed has a batch of 4 treatments (a facial cleanser, a clearing tonic, and 2 different serums).  Each is available individually or you can save about 40% by bundling them together.
The facial cleanser is Salicylic acid based and also includes Vitamin B5 and Sage Extract to prevent skin dryness.
For a comprehensive treatment and to reap the full benefits that 98% of users saw, it's a good idea to go for the full kit.
If you are unclear on what products you might need, Exposed offers a free assessment tool that takes your skin profile and provides recommendations on which product or kit to pickup.
Still on the fence? Exposed also offers a 1-year guarantee on their product.  You can return the product within 1-year for a full refund.  Not bad!
2.Neutrogena Oil-Free Acne Cleanser
Neutrogena is a renowned brand in the beauty space. The Neutrogena Oil-Free acne cleanser is primarily made from natural ingredients such as aloe vera and chamomile. It contains 2 percent salicylic acid. It is quite effective in fighting skin breakouts and reducing the appearance of redness caused by pimple spots.
Pros
This facial wash helps remove spots from the source, thus preventing future breakouts.
One of the best facial cleansers that effectively reduce skin redness all while fighting against future skin breakouts
The integrated salicylic acid works by targeting the problem areas on your skin.
The MicroClear formula effectively delivers the treatment to your skin thus heightening the cleanser's spot-fighting power.
An excellent choice for those who want a cleanser that easily penetrates deep into the skin and cuts through grease.
The combination of salicylic acid, aloe vera, and chamomile work together to reduce skin irritation and redness, leaving you with smooth skin.
Super easy cleanser to apply thanks to the creamy consistency.
Perfect choice for those with greasy skin type as it helps deliver a clear skin tone.
It is affordable.
Does not cause your skin to over dry.
Cons
It's not suitable for people with sensitive or delicate skin.
3.CeraVe Salicylic Acid Cleanser
Although expensive, the CeraVe Salicylic Acid cleanser is another excellent face wash choice to consider. This cleanser has been developed by dermatologists, which guarantees that it will be effective as a facial wash.
Pros
It smoothens, softens, and cleanses the skin by removing both oil and dirt.
Helps cleanse and hydrate the skin thanks to salicylic acid, vitamin D, hyaluronic acid, and niacinamide which work together to shed off dead skin cells.
Made using three essential ceramides that aid in the maintenance and restoration of your skin's natural protective barrier.
It doesn't contain any harsh microbeads that can damage the environment or irritate the skin.
This cleanser is non-irritating, non-comedogenic, non-drying, and free from any fragrance.
Designed to cut through grease, dirt, and dead skin, leaving your face rejuvenated and clean.
Dermatologists have developed this CeraVe cleanser; hence you can relax knowing it has been made by experts.
The salicylic acid has exfoliating properties that help soften the skin.
Works to give your skin antioxidant protection.
Quite easy to apply and use thanks to the functional pump bottle.
The CeraVe brand has other skincare products that can be used simultaneously with this cleanser for better results.
Cons
It is expensive, and some customers have complained about the pump.
4.Neutrogena Oil-Free Acne Facial Cleanser
Another face wash that makes it in our list courtesy of Neutrogena is the Neutrogena Oil-Free Acne facials wash. It comes packed with various ingredients that work to clear your skin, all while preventing future breakouts.
Pros
The value-pack weighs only 9-ounces.
Perfect face wash for fighting acne as well as prevent any future breakouts, all while cleansing your skin.
Highly recommended by dermatologists for those looking for an acne-fighting cleanser.
Made from a unique formula that helps gently clean deep down into your pores.
Uses the Micro Clear technology to help heighten the delivery of the salicylic acid to help clear pimples, acne, and blackheads.
It doesn't clog pores as it's non-comedogenic and also because it uses an oil and residue-free formula.
It has a clean rinse that doesn't cause any irritation or leave the skin overly dry.
Results in clearer skin when used daily.
Neutrogena has a sustainability certification, which means the products used won't cause any harm to the environment.
Can be used alongside other Neutrogena skincare products.
Cons
It is a strong face wash that might not work for everyone.
Some customers with extremely sensitive skin have complained of a burning sensation when using this cleanser.
5. Tracie Martyn Amla Purifying Cleanser
The Tracie Martyn Amla purifying cleanser, albeit pricey, is an effective face wash. This face wash goes beyond cleansing. It is packed with nothing but the highest natural quality ingredients that make it a darling amongst Hollywood celebrities and fashion insiders.
Pros
It's a luxury cleansing face wash.
 Perfect cleanser for cleaning the skin, removing makeup, as well as nourishing and exfoliating the skin.
Made from high-quality natural ingredients that help enrich and nourish your skin tone.
High-end product that is effective in tackling pimples, minimizing and unclogging pores, and reducing the appearance of wrinkles and lines.
The Ayurvedic Amla extract gives your skin vitamin C while the Hawaiian green papaya enzymes work as a natural exfoliant.
The salicylic acid helps to cleanse deep down into your pores and fight any future breakouts.
It's a favorite amongst many Hollywood celebrities.
Has a refreshing aromatherapy scent that helps lift up one's spirits.
The Tracie Martyn brand does not conduct tests on animals making their products vegan friendly.
The cleanser is free from any dyes, petro-chemicals, unnecessary fillers as well as artificial fragrances.
Suitable for most skin types thanks to the fille-free product used.
Cons
 It has a high price tag and is in a small bottle.
6.Bioré Charcoal Face Wash
Another affordable face wash that you can consider is the Bioré Charcoal Face Wash. The primary ingredient used is activated charcoal. Studies have shown that charcoal has various benefits to the skin, and this cleanser is especially worth it for people with blackheads.
Pros
It's quite affordable.
Works best for people with oily skin.
The infused charcoal helps clean deep into the pores and absorb any unwanted oil resulting in a balanced purification.
Works to stop the development of any new acne thanks to the Biore Skin Purifying technology coupled with the natural charcoal.
The combination of salicylic acid and natural charcoal works to prevent any future breakouts, all while treating any existing acne.
It's a gentle face wash as it has a soothing formula that carefully removes any dirt and blemishes, thus leaving your skin feeling and looking healthier.
This cleanser is oil-free and has also been tested by dermatologists.
Designed for everyday use.
Best suited for people looking to get clearer skin quickly as it gives a clearer skin in just two days.
This cleanser is non-comedogenic
Biore doesn't test on animals making this cleanser vegan-friendly.
Cons
 Causes a burning sensation if left on for too long.
Some customers have complained about the smell.
7. SkinCeuticals LHA Cleanser Gel
If you are an adult whose skin is prone to acne and you are in the market for the best salicylic acid face wash, then the SkinCeuticals Lha Cleanser Gel should be on top of your list. The ingredients infused in this face wash helps clean out pores as well as target whiteheads and blackheads.
Pros
An excellent choice for people suffering from adult acne
Helps fight both wrinkles and blemishes caused by pimples without leaving the skin dry.
Besides salicylic acid, this face wash also contains lipo hydroxy acid (LHA), which work together to target whiteheads and blackheads as well as clean deep into the pores.
Helps prevent future breakouts.
It's infused with glycolic acid, which has anti-aging benefits.
Its formula helps improve overall skin brightness and tone as well as promote the renewal of skin cells.
Removes excess makeup and oils.
Works well for people with oily, aging, and combination-skin types.
This gel cleanser is soap-, paraben-, alcohol-, and dye-free.
Has a tingling sensation that helps leave the skin feeling clean and refreshed.
It has positive reviews from people who have used it.
Cons
Even though it's worth the money, this product is quite costly.
8. Aveeno Clear Complexion Facial Cleanser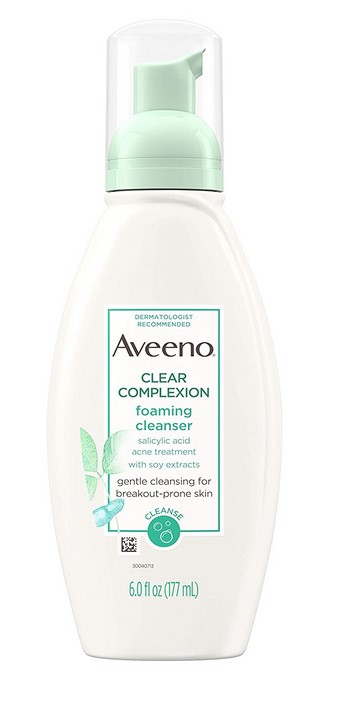 Aveeno is another popular brand that you can count on if you are looking for a solution to any skin issues you might have. The Aveeno Clear Complexion facial cleanser works perfectly well for people whose skin is prone to acne breakouts.
Pros
Helps improve your skin complexion and is perfect for those prone to breakout and helps prevent future breakouts.
It's an oil-free foaming face wash that can be used daily.
Works by improving the skin's texture and tone thanks to the infused salicylic acid that is excellent for acne treatment.
This face wash is not only oil-free, but it's also hypoallergenic, soap-free, and non-comedogenic.
Works well for sensitive skin as it is gentle and doesn't over-dry the skin.
Leaves the skin feeling smooth, even-looking, and soft
You will be buying a face wash that has been recommended by dermatologists for more than 65 years now.
Designed to help clear your skin without toning down your natural glow.
Works to clear blemishes and showcase your skin's radiance.
Aveeno has a Clear Complexion collection that can be used alongside this face wash to ensure your skin stays as radiant.
The pump bottle makes it easy to use and apply.
Cons
Doesn't work for all skin types.
9. Dr. Barbara Sturm Cleanser
Another expensive face wash option on our list is the Dr. Barbara Sturm cleanser. Although costly, this cleanser works like magic. Those who have used it swear by it. Made by a doctor, this face wash is more than just a face wash.
Pros
It's a gentle foaming face wash that removes dead skin, makeup, and dirt.
 It helps prepare the skin for serum or moisturizer without affecting its pH-balance.
An excellent option for people with all skin types – oily, dry, normal, and combination
This face wash helps eliminate wrinkles and fine lines, dryness, blemishes, and acne.
It's a lightweight liquid that is easy to use and is gentle on the skin.
This face wash provides a thorough but gentle cleansing of the skin thanks to the Mild Tensides used.
The Aloe Vera and Purslane in the ingredient list work to soothe any irritation. It also has an antioxidant that supports the skin's health and stimulates the body.
This is a gluten-free, cruelty-free product that is suitable for vegans as well.
Made without any mineral oil, parabens, fragrance, or sulfates.
Its use results in a clear, bright, and healthy skin.
Cons
This product is expensive but worth every cent.
Final Thoughts
Salicylic acid offers valuable benefits to the skin. While most brands integrate various amounts of salicylic acid in their face wash, no face wash is similar to any other. Thus, when choosing a salicylic acid face wash, you need to consider other ingredients used, your skin type, recommended usage, and price.
It's important to note that salicylic acid also has some side effects. While these are usually mild, some of the side effects that you can experience include redness, dryness, or a stinging sensation. Depending on the quantity of salicylic acid used, you should be able to use any face wash containing salicylic acid daily.
If you are dealing with pimples, acne, blackheads, or whiteheads, try any of the above listed salicylic acid face wash and start your journey to clearer skin. Remember to consider your skin type and other ingredients before you settle for a salicylic acid face wash.