People with cystic acne know the difficulty it takes to treat it. In fact, if you ask anyone who has dealt with cystic acne, they'll most likely tell you that they have had moments when they wanted to get rid of their skin and purchase a new one. But as we all know, it's impossible to do that.
Cystic acne is usually deeply rooted within the skin tissue. It can't be treated with most serums or creams the same way you can for blackheads or whiteheads. Plus, cystic acne has a higher risk of scarring, is more painful, and will mostly need prescription medication. Nevertheless, all hope is not lost as some products might help.
In this guide, we will take a look at some of the best treatments for cystic acne that you can buy.
1. Acne Treatment Differin Gel
According to dermatologists, one way to prevent cystic acne is to incorporate retinoid into your skincare routine. This Differin acne treatment gel is not only available over the counter, it also has a prescription-strength retinoid that will help fight acne on your skin.
Pros
 It is available in five different sizes that can last you anywhere between 30 to 180 days.
Because cystic acne is deeply rooted within the skin tissue, this gel works by clearing the acne breakouts deep in the pores.
Works to prevent the formation of new acne, which helps restore the tone and texture of your skin.
Differin, unlike other treatment solutions, works by targeting the two main causes of acne – inflammation and clogged pores.
Helps normalize skin cell turnover.
Developed for superior tolerability when compared to other retinoid prescription products thanks to the integrated Adapalene.
The infused Adapalene helps make this product gentle, which means you can use it twice daily.
 It is non-comedogenic, fragrance-free, oil-free, alcohol-free, and has a water-based formula.
The water-based formula helps minimize the risk of hyperpigmentation and scarring.
A clinical study showed that Differing gel can result in reduced acne lesions up to 87 percent after 12 weeks of use.
Cons
Takes longer to start seeing results
2. Clean & Clear Acne Facial Cleanser
When it comes to treating cystic acne, cream alone isn't effective. A combination of creams, cleansers or serums can make a whole lot of difference. This Clean & Clear Ace facial cleanser is a good buy for anyone looking for cystic acne treatment.
Pros
Its active ingredient is salicylic acid which makes it quite effective in the treatment of acne.
Helps fight acne while leaving your skin feeling refreshed after the first wash.
Use it as a daily part of your skincare routine, it will leave your skin feeling refreshed and clearer.
Helps fight breakouts in three ways – gets rid of pore-clogging oil on the skin, treats acne while soothing the skin, and helps to prevent any future breakouts.
The salicylic acid integrated into this cleanser targets pimples, thus helping prevent a flare-up.
It's a cooling face wash that is suitable for all types of skin.
 Has an oil-free formula that has been developed using aloe, mint, and salicylic acid that doesn't clog the pores.
Works quite effectively on the skin and has positive user reviews.
Offers good value for the cost.
Cons
Can cause skin dryness and irritation if another topical acne medication is simultaneously used with it.
3. AcneFree Acne Cleanser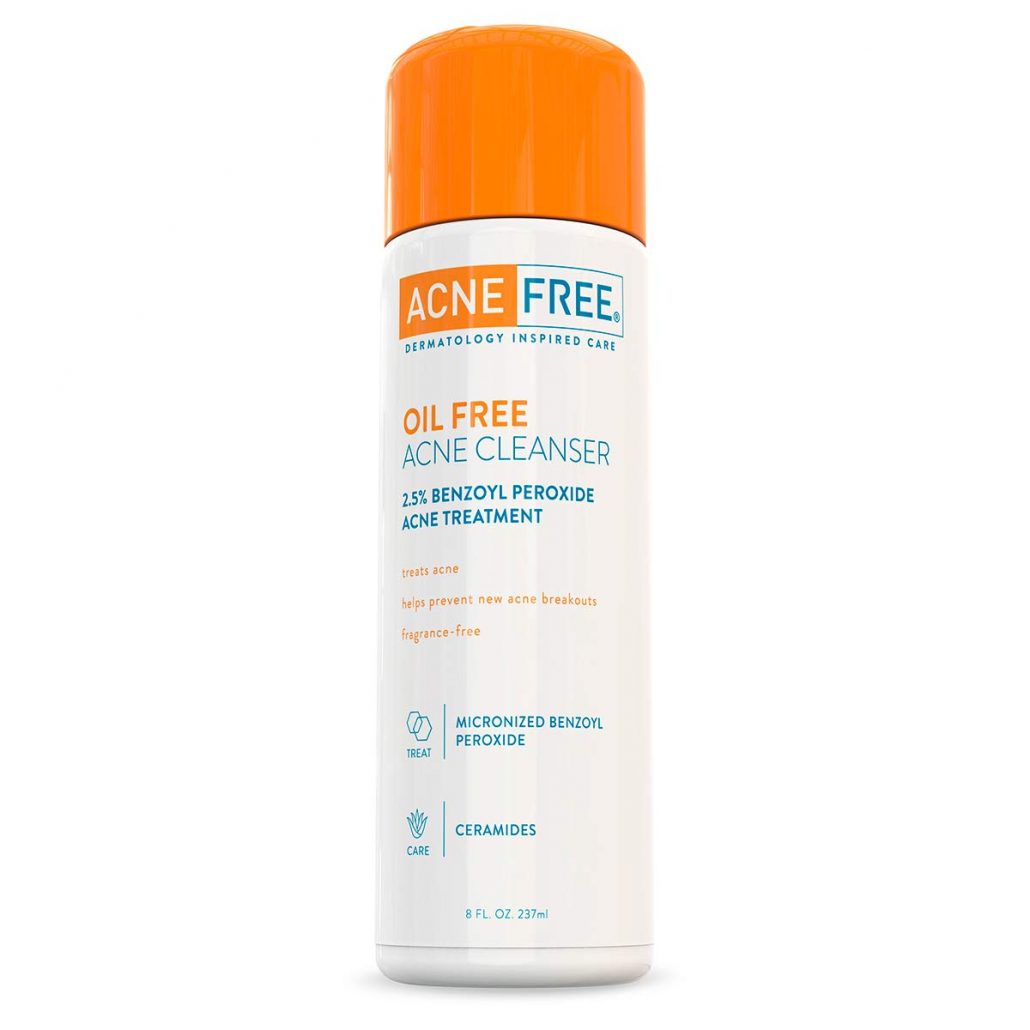 This acne cleanser from AcneFree is affordable and contains benzoyl peroxide, which has a myriad of acne-fighting benefits. This product is excellent for treating cystic, inflammatory, and comedonal acne.
Pros
 It is affordable and effective in fighting cystic acne.
The inclusion of benzoyl peroxide in its ingredient list gives this product the strength to be effective while still being gentle on the skin thanks to the less irritating glycerin and micro-benzoyl peroxide.
It's an oil-free cleanser.
Works by penetrating the pores, attacking acne-causing bacterial and clearing your skin
Uses ingredients that have been recommended by dermatologists to treat acne and take care of your skin.
Besides the face, this cleanser can also be used to fight acne on the body.
It is a gentle cleanser that does not cause your skin to dry.
This Acne Free cleanser contains ceramides that help keep your skin hydrated as well as maintain its natural moisture barrier.
Results can be seen after a few weeks of use.
Contains exfoliating beads that are not harsh or irritating, making it a good choice for people with sensitive skin.
Cons
While the product works, there have been issues reported about the packaging bottles.
4. Neutrogena Hydro Boost Water Gel
Besides cleansers and serums, investing in a good moisturizer can help fight cystic acne. The Neutrogena Hydro Boost is a water-based gel ideal for people fighting acne as it does not contain any heavy oils.
Pros
Excellent moisturizer as it does not contain any heavy oil.
This water-based, oil-free moisturizer helps prevent breakouts while keeping the skin hydrated.
Features hyaluronic acid, which aids in keeping the skin moisturized, hydrated, and supple.
Besides coming from a brand that is widely acknowledged by dermatologists globally, it is also dye and fragrance-free.
 Perfect for people with dry skin.
It features a non-comedogenic formula that guarantees your pores won't clog.
It is unique and absorbs quickly into the skin, making it possible for you to wear it with makeup.
It's an award-winning moisturizer
Can temporarily help protect and relieve mild skin itching and irritation caused by rashes and eczema.
It results in an improved skin texture that glows.
It doesn't agitate or cause any redness to the acne but instead helps minimize the acne.
Cons
Doesn't work very well for people with sensitive skin.
5. EltaMD UV Clear Facial Sunscreen
Sunscreen is just an important part of your skincare routine if you are fighting cystic acne. This EltaMD UV Clear facial sunscreen is an excellent addition to your skincare products. It is ideal for acne-prone skin and is oil-free, making it suitable for people with oily skin.
Pros
This product is lightweight, oil-free, and suitable for people with acne-prone skin.
Not only does it protect your skin from the ultraviolet rays of the sun, it has also been developed to treat acne.
Features B3 and niacinamide, which help reduce hyperpigmentation; hyaluronic acid that helps moisturize the skin; and lactic acid that reduces shine and clears pores.
Highly recommended by dermatologists as it helps protect and calm sensitive skin types that are prone to acne, discoloration, and rosacea.
Protects against both UVA and UVB.
EltaMD has other products in their skincare products that can be used simultaneously with this to help with acne treatment.
 The ingredients used all work together to help improve the appearance of the skin, leaving you with a healthy-looking skin.
It does not leave any residue thus reducing the chances of  clogged pores.
Cons
It is not water-resistant thus not suitable for use with makeup.
6. SkinMedica AHA/BHA Exfoliating Cleanser
This cleanser from SkinMedica has a fruity scent of lavender, citrus, orange, and lemon. But scent aside, this is an effective chemical exfoliator that helps unclog pores and aid in cell turnover. Plus, it helps prevent breakouts by ensuring that cysts don't form.
Pros
Helps improve the skin texture thanks to the combination of alpha- and beta-hydroxy acid.
It gently scrubs away any dead skin thus helping improve the appearance of your skin tone and texture.
Helps remove makeup, dirt, and any environmental pollutants hence leaving the skin feeling rejuvenated and ready for any treatment.
Depending on your skin's tolerability, one can use it twice daily as it is gentle and hardly burns.
Uses ingredients that are naturally-derived and which help exfoliate the skin.
SkinMedica has a wide range of products that can be used with this cleanser as part of one's skincare routine.
One can apply it to the face, neck, and chest.
Results in a skin that is both smooth and has a consistent tone.
This cleanser from SkinMedica is easy to use and can be used alongside other products.
Cons
It is slightly expensive and needs to be used with a sunscreen as it heightens the skin's sensitivity to sunburns.
7. Neutrogena Rapid Clear Leave-on Mask
Another excellent acne treatment solution to have in your skincare routine is a face mask. Face masks do lots of wonders, including opening up pores and removing any dirt. The Neutrogena Rapid Clear leave-on mask is made to both treat and control acne.
Pros
As a face mask, this Neutrogena product covers a larger part of the face.
Because it's a leave-on mask, you are able to get prolonged exposure to the antibacterial peroxide that is excellent for treating existing pimples and preventing new ones from forming.
It's made using benzoyl peroxide, which is a renowned acne treatment ingredient.
Helps in the control and treatment of acne.
It easily vanishes into the skin without clogging the pores to fight deeply rooted acne.
You will be buying from a brand that is highly recommended by dermatologists.
Helps clear stubborn breakouts.
Clinically proven to reduce the size as well as redness of any existing breakouts within 4 hours.
It is very gentle and can be used up three times daily as it does not sting, nor does it cause the skin to over-dry or burn.
 Recommended for daily use thus allowing you to treat acne round-the-clock.
Cons
Not ideal for people with sensitive skin.
8. skyn ICELAND Blemish Dots
Pimple patches are also better suited to clearing acne as they allow for better perforation of medication and healing. It also prevents one from picking out their acne, thus causing more damage. These patches from skyn contain salicylic acid and beta-hydroxy acid. Both work together to penetrate into the pores and break up any plugged follicles.
Pros
These blemish dots help reduce inflammation, clear blemishes as well as reduce redness.
It is affordable and the patches can last if used sparingly.
These gel patches are powerful and efficient in clearing out any blemishes.
Provides relief from breakouts in hours as it works fast thanks to the continuous flow of blemish-fighting ingredients.
Helps to soothe skin irritation as it has been formulated to quickly reduce any irritation, all while preventing the proliferation of acne-causing bacteria and soaking up excess oil.
This acne treatment is gentle. Each patch adheres to the skin and stays put, thus delivering constant pore-purifying benefits.
Quite useful as it can kill bacteria without irritating the skin or causing it to dry.
Helps smoothen, retexturize and restore the skin's balance.
It's an award-winning acne product.
Cons
Doesn't work for all types of skin.
Final Thoughts
Among all types of acne, cystic acne is awfully hard to treat. While there is a myriad of treatments in the market today that can easily be purchased over the counter, it's still important to consult with your dermatologist or doctor. Some treatments may not be suited for use alongside other medications or treatments. In addition, depending on the treatment you choose, some might cause an adverse reaction depending on the product's ingredients.
That said, while there are different treatments for acne ranging from face wash, creams, serum to sunscreen, there is no one-size-fits-all acne treatment solution. In fact, if anything, most people who have found a cystic acne treatment that works have done so after a few tries. To avoid this, it's advisable to see a dermatologist and get a prescription to avoid any scarring. In addition, not all the items in our list should be used. If anything, consider pairing solutions that contain strong actives with ones that are gentler.