Most over-the-counter acne treatment products tend to treat periodic breakouts or moderate to mild acne. Most over-the-counter (OTC) treatments include cleansing gels, lotions, foam patches, leave-on products, and treatment kits. Knowing the exact product that can work for you can be an arduous task due to the many options available.
The Food and Drug Administration has warned that some well-known OTC acne treatment products can have very adverse effects. These can range anywhere from mild effects such as redness, itchiness, irritation to more serious reactions such as swelling of the lips, tongue, face, or even tightness of the throat. While treating acne is no mean feat, choosing the wrong product can also leave you more devastated. In short, it's important to choose an OTC treatment wisely.
This guide has reviewed some of the best OTC acne treatments that you can find in the market today.
1.PanOxyl 4 Acne Creamy Wash
Benzoyl Peroxide is a very well-known acne treating ingredient. In fact, most dermatologists recommend products that contain benzoyl peroxide for anyone battling acne. This creamy wash comes infused with 4% benzoyl peroxide, which makes it a good choice for novices who are considering OTC treatment.
Pros
It's a unisex face wash that comes in a pack of three bottles that weigh 6 ounces.
The active ingredient, benzoyl peroxide, works by getting rid of any acne-causing bacteria as well as controlling oil.
This face wash is anti-inflammatory and comedolytic, which means it helps calms the skin while reducing clogged pores.
It's able to lift off the dirt from your skin, thus leaving it feeling fresh and clear.
The 4% benzoyl peroxide makes it an excellent choice for beginners who want to get an OTC acne treatment option.
It is both effective and gentle to the skin thanks to the formula used to produce it.
Can be used to clean both the face, chest, and back as well as unclog pores.
This face wash helps to prevent the forming of new blemishes while also clearing existing acne.
Suitable for most types of skin and is highly recommended by dermatologists.
Cons
It shouldn't be left on for too long as it can cause redness and burning.
2.CANE + AUSTIN Miracle Pad Plus
Although costly, this Cane + Austin face peel pads are worth every penny. These pads have three main active ingredients – salicylic acid, lactic acid, and glycolic acid. All work together to improve skin texture and tone. It also has anti-aging benefits.
Pros
Features three different acids – lactic, salicylic, and glycolic acid – that all play an important role in treating acne.
Works by targeting dark spots and repairing age spots, damage caused by the sun. It also evens skin tone.
It's easy to use. It diminishes wrinkles, fine lines, dark spots, hyperpigmentation, and reduces the size of pores.
These face peel pads offer maximum strength at-home facial treatment that has been clinically proven to build collagen.
Helps restore your skin's vitality and luminosity, leaving you with radiant, healthy-looking skin.
It's infused with witch hazel, which helps gently cleanse the skin all while providing a toned and tight feeling
It's fragrance and paraben-free which means it's non-irritating.
Ideal for all skin types.
These pads offer skin hydration and exfoliation.
The infused salicylic acid works to get rid of dirt, sebum, and debris, leaving the skin brighter and clearer.
Can be applied both at night and morning as it's easy to use.
Cons
3.CeraVe Foaming Facial Cleanser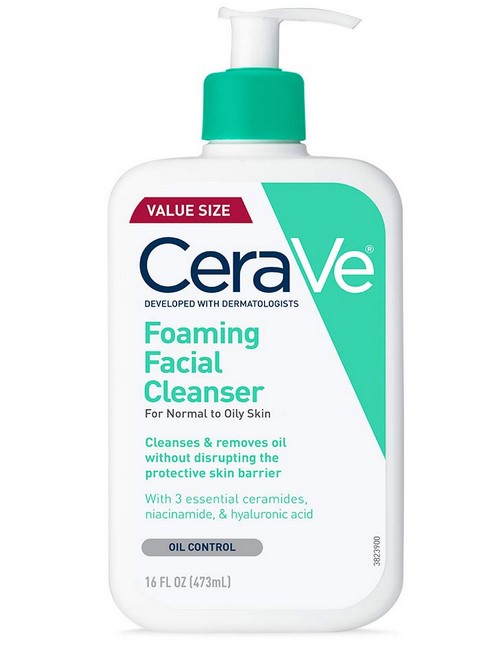 If you are looking for a highly effective acne treatment facial cleanser that you can buy over-the-counter, you should consider CeraVe Foaming facial cleanser. This is a good product for people with normal to oily skin. It comes in a value size, has no actives, and is affordable.
Pros
Easily cleanses the skin and doesn't leave it feeling tight, dry, or stripped.
It has been formulated using three important ceramides – 1, 3 6-II – that help restore and maintain the skin's natural barrier.
The CeraVe line of products, this included, has been formulated with dermatologists thereby guaranteeing its efficacy.
Suitable for normal to oily skins.
This cleanser dispenses easily as a clear gel, which with continued lathering, changes into a foam.
This facial cleanser is non-irritating, fragrance-free, non-drying, and non-comedogenic, which allows for its daily use.
Comes from a brand that has a wide array of products that are suited for different skin types – acne-prone skins included.
The infused hyaluronic acid, niacinamide, coupled with ceramides work simultaneously to balance the skin's moisture.
It can also be used on the body or hands and is affordable.
Helps to efficiently remove makeup, excess oil, and dirt, leaving the skin feeling rejuvenated.
Cons
Causes skin to break out, according to some users.
4.Clean & Clear Advantage Acne Treatment
This acne spot treatment is effective in clearing gunk from the skin's pores and reducing redness. Infused with 2% salicylic acid, this spot treatment gets the job done, works on a combination of skin, and has received positive reviews from customers.
Pros
Clinically proven to help one have clearer skin in just one day as seen in 100% of testers.
Features salicylic acid and witch hazel, which work together to reduce any signs of acne.
Contains a breakthrough technology that quickly dissolves oil on the skin and rapidly reduces the size, swelling, and redness of pimples.
It's an oil-free acne medication, which means it's also suited to people with oily skin.
 The natural ingredient, witch hazel, helps to soothe the skin while salicylic acid helps clear blemishes by penetrating through the pores.
It doesn't cause the skin to over dry and works effectively for people with oily, normal, as well as a combination of skin.
It starts working immediately to dissolve any surface oil as soon as you apply it.
Because it's non-irritating, it can be used up to three times daily.
Has been shown to minimize pimple in just four hours.
Cons
Though rare, it can cause hypersensitivity reactions in some people.
5.Neutrogena Age Shield Face Lotion
Another Neutrogena product that makes it to our list of the best OTC acne treatment is this Neutrogena Age Shield face lotion. This lotion comes infused with several ingredients to help treat acne and is ideal for people with sensitive skin.
Pros
Contains 2.5% bacteria-fighting benzoyl peroxide that makes it ideal for sensitive skin.
Neutrogena is among the best dermatologist-recommended skincare brand.
This lotion is PABA-, oil-free, and non-comedogenic, which means it won't clog your pores.
 Features the Broad Spectrum SPF 110 that aids in shielding the skin from sun-caused damage, all while preventing any signs of aging.
It is affordable and has been formulated with Broad Spectrum UVA/UVB protection to counter the signs of aging.
It is dermatologically tested, and this lotion helps to protect skin – up to six-layers deep – from the damaging rays of the sun.
Infused with skin conditioners that help replenish and hydrate the skin, thus helping your skin maintain its youthful appearance.
Helps prevent future breakouts with just one simple and light application.
Men can also use this lotion to get rid of neck pimples after shaving.
Cons
It's not ideal for people with overly sensitive skin and cannot be used simultaneously with another topical acne medication.
6.La Roche-Posay Effaclar Duo Dual Action Acne Treatment Cream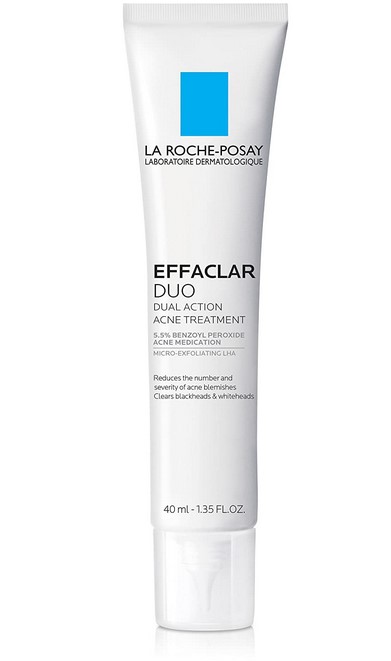 Another effective yet affordable OTC acne treatment product is this Duo Dual Action Acne treatment cream from La Roche-Posay Effaclar. This duo treatment's efficacy means that you can start seeing results in just three days.
Pros
La Roche-Posay is Europe's number one acne skincare brand.
It's a dual-action product that allows for results to be visible in just three days.
It has an oil-free formula coupled with the infused benzoyl peroxide and micro-exfoliating LHA that penetrates any clogged pores, thus clearing both whiteheads and blackheads.
Clinically proven to reduce acne blemishes by 10 percent in just 10 days.
This product has been dermatologically tested on sensitive skin and proven to be effective for people with sensitive skin.
La Roche-Posay has other skincare products in their line that can be used alongside this product.
This product is not only non-comedogenic, but it's also fragrance-, paraben-, and oil-free.
Helps to treat acne that is deeply rooted thanks to the Lipo Hydroxy Acid and 5.5% micronized benzoyl peroxide.
The Lipo Hydroxy acid provides accurate cell by cell exfoliation, thus helping clear away oil and cellular debris.
It has a fast-absorbing texture and is a non-drying acne product.
It has won numerous awards, including one for the Best Acne Spot Treatment.
Cons
If the usage instructions are not followed, it can cause redness and irritation.
7.Differin Adapalene Gel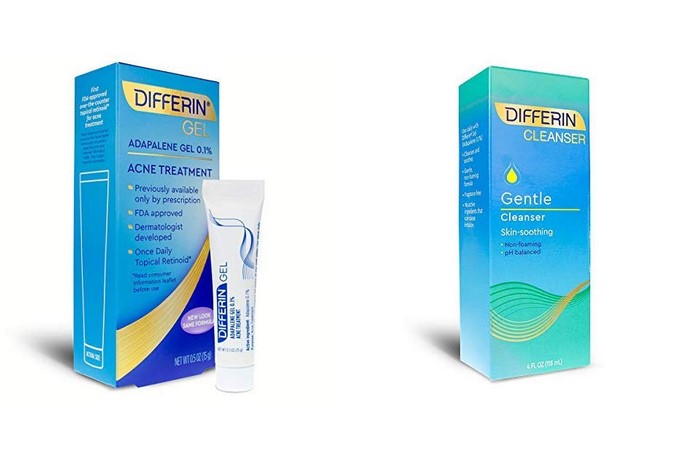 The Differin Adapalene Gel does a great job in helping clear out cystic acne. Infused with retinoid, this product will help fight acne on the skin thanks to its prescription-strength retinoid.
Pros
It is affordable and comes in five different sizes that can last you 30 to 180 days, depending on the size you choose.
Works best for cystic acne as it helps clear breakouts that are deeply rooted in the skin tissue, thus clearing out any breakouts deep in your skin's pores.
Works by attacking the two major causes of acne – clogged pores and inflammation.
This product has been formulated for superior tolerability compared to other retinoid prescription OTC products thanks to the incorporated Adapalene.
Helps prevent the forming of any new acne, thus restoring the texture and tone of the skin.
Aids in the normalization of skin cell turnover.
The Adapalene ingredient makes this acne gel gentle, allowing for it to be used up to two times daily.
It's fragrance-, alcohol-, oil-free, non-comedogenic, and has a water-based formula, which helps to reduce the risk of scarring and hyperpigmentation.
Cons
It takes a bit more time for one to start seeing the results.
8.Cetaphil Moisturizing Lotion
If you are getting started in your acne treatment journey but are on a budget but still want something effective and affordable, the Cetaphil Moisturizing lotion is the answer. This product is not only fragrance-free, it can also be used on the face and body.
Pros
The perfect lotion for delivering everyday moisture to take care of dry skin.
It was initially designed for dermatologists and is therefore sensitive to the needs of your skin. It is also gentle.
Suitable for people with various skin conditions such as acne because it has neutral pH formulations. It is not a soap hence leaves no irritating residue.
This product has been proven to be four times less irritating compared to Dove bar based on clinical tests done.
It has incorporated the humectant propylene glycol that helps boost hydration.
It's manufactured by Galderma Laboratories – a big benefactor of the Dermatology Foundation who helps fund critical dermatology research.
It's a fast-absorbing lotion that boosts your skin's natural moisture, thereby leaving your skin feeling smooth, soft, and replenished.
It's fragrance free and features six moisturizers alongside vitamin B5 and E.
It's non-comedogenic and hypoallergenic, thus it won't clog your pores or irritate your skin.
Cons
There is some confusion between the face and body lotion and the body lotion itself.
Final Thoughts
Fighting acne can be both time and money-consuming. In addition, when fighting acne, it's important for one to be patient as various treatments don't provide overnight healing. When buying OTC acne treatment products, it's imperative to choose products that either has benzoyl peroxide or salicylic acid. While there is no telling which among the two active ingredients will work better, you might have to do some experimentation yourself.
Moreover, you should take the "less is more approach." Using multiple products can cause your acne to worsen or, in other cases, irritate your skin. Therefore, start with a cleanser that you can use in the morning and an acne spot treatment in the night. Remember, acne treatments, while good, can cause your skin to dry; hence it's particularly important to ensure you moisturize. All in all, remember to be patient.