Acne happens to be an issue that everyone has to deal with at some point in one's life. It's quite normal for teenagers to experience acne. However, men can still experience acne beyond their teen years. Good acne treatments can help clear up pores and make you look your best. Fighting acne isn't easy. Truth be told, fighting acne can be a lifetime struggle.
Diet, stress, and hormonal changes can cause a breakout. However, with the right treatment, you can handle acne and get that clear skin you've always desired. As a man, if you suffer from breakouts, consider using the best acne treatment. While there are loads of options in the market today, it's important to find a treatment that works for you. In this guide, we'll review some of the best acne treatment for men.
1.Neutralyze Exfoliating Pads
The Neutralyze Exfoliating Pads is an acne treatment that works for different types of skin – oily, dry, normal, and combination. Neutralize also don't test their products on animals. The best part is that it's unscented and works perfectly well for people who don't like fragrances.
Pros
 Comes with 100 acne treatment pads that help deliver noticeable results in under 24 hours.
 Help rectify uneven skin tone and unclog pores.
 Assists in reducing wrinkles and fine lines.
Works well for both teens and adults with all types of skin tones.
The pads are dual-textured which help with effective exfoliation.
This treatment has been clinically proven to boost cell turnover while keeping the skin refreshed and free from acne.
100% satisfaction guaranteed, and if not, customers can contact the company's team for a full refund.
Helps in the elimination of pimples, whiteheads, cystic acne, blemishes, zits, post-acne marks, and acne scars.
Helps mitigate other types of skin conditions such as eczema, dermatitis, rosacea, keratosis pilaris, and psoriasis.
Cuts down skin irritation and redness, resulting in an improved complexion thanks to the multi-patented Nitrogen Boost Skincare Technology.
Cons
It is rough on the skin.
It has an antiseptic smell.
2.L'Oreal Paris Skincare Men Facial Cleanser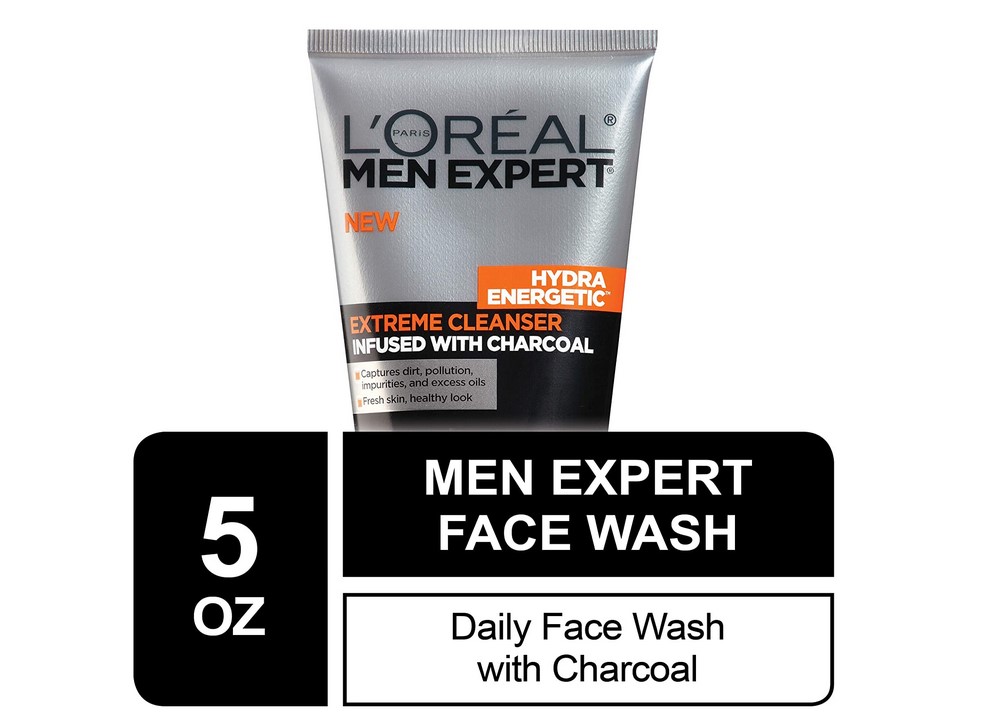 L'Oreal is a well-known brand when it comes to the production of beauty products for both men and women. The L'Oreal Paris Skincare Men facial cleanser is another excellent acne treatment for men. The cleanser uses activated charcoal as well as other assorted ingredients to cleanse pores and repair the skin's cells.
Pros
Best suited for people suffering from inflammatory and comedonal acne type.
Works well for people with dry and oily skin types as well as those whose skin cannot handle scrubs.
Made from activated charcoal, which rubs nicely into the pores and removes all dirt and toxins, leaving your pores clear.
The acids in the ingredients help in further breaking down the dirt and oils while the antioxidants aid in the repair of your skin.
It's formulated for men.
Helps in keeping your skin hydrated and moisturized as well as fight any signs of aging such as sagging skin, wrinkles, dryness, loss of firmness, and roughness.
L'Oreal has other products that can be used daily with this facial cleanser.
It's quite affordable, making it a good buy for men who don't want to spend a lot at once.
Cons
Not ideal for people with sensitive skin.
Can feel uncomfortable when being applied as it feels thick on the skin.
3.Keeva's Acne Treatment Cream
This Keeva Tea Tree Oil Cream is perfect for acne treatment on all skin types. The cream is made from natural oils and salicylic acid, which helps soothe and moisturize your skin while clearing up your pores.
Pros
Perfect for all skin types.
It is a creamy and light acne treatment that uses nothing but the best anti-acne ingredients.
Does an excellent job of healing acne from the root and preventing any future breakouts.
The Tea Tree oil is an all-in-one natural ingredient – it's a moisturizer, cleanser, astringent, toner, antifungal, and antibacterial.
Has antibacterial and antiseptic properties that help tame blemishes by eliminating bacteria within the pores.
Helps your face balance oil production to keep your skin properly moisturized and the pores clear thereby reducing scars and helps smooth your complexion
You can buy additional Keeva products to use with this cream to help keep your skin beautiful and clean.
The cream does not use any harmful chemicals, making it safe for people of all skin types.
Cons
It doesn't work as quickly as other acne treatment options.
It has a noticeable fragrance and a minty tingling sensation that might not be suited to everyone's liking.
4.Acnetame -Vitamin Supplements
Not all acne treatments come in the form of face wash or cream. The Acnetame pills are vitamin supplements that help regulate hormone imbalances and reduce the amounts of facial oil produced by your body. One tin contains 60 tablets.
Pros
One of the best acne pills for both men, women, and teens.
Perfect for people with oily skin.
Help reduce oil production, regulate hormonal breakouts, and improves the healing time of your skin.
Ranked as the number one best selling acne supplements on Amazon for five years in a row.
Acnetame has an 80 percent success rate for customers who have been using these supplements for an extended period of time.
Made from various natural ingredients such as vitamin A, sulfur, and B5, among others that work to clean your skin and rid it of pimples and acne.
Can be used alongside other medications, however, consult a doctor prior to use.
The ingredients used have gone through rigorous scientific research.
Cons
It does not unblock pores easily and is not suited for people with dry skin.
Doesn't work as quickly as other acne treatment options.
5.Neutrogena Men Acne Face Wash
Another best acne treatment option that men can consider is the Neutrogena Men Acne face wash. This acne face wash is perfect for men who have an acne-prone skin type. The active ingredient is salicylic acid that helps eliminate debris and dirt from inside your pores.
Pros
The active ingredient – salicylic acid – helps in acne treatment as well as in treating breakouts.
It's a non-comedogenic face wash that helps get rid of oil and improves the clarity of one's skin, resulting in clear skin as it does not clog the pores.
Made specifically for men.
Helps in treating existing breakouts while also helping prevent future breakouts.
Made for everyday use and is even more effective when used daily.
It is affordable compared to other acne treatment options available in the market.
It is an effective product that doesn't use a ton of ingredients.
Best suited for oily skin and for men suffering from comedonal acne.
Besides helping with the treatment of acne, it also helps soften facial hair before shaving.
Easy to use
Cons
Not suitable for dry and sensitive skin.
Causes skin dryness and irritation if used alongside other topical acne medication.
6.NxN Acne Treatment Kit
The NxN Acne treatment kit contains four different products that fight acne in different ways, all while preventing any future acne breakouts. Works best for acne treatment for people with oily or sensitive skin.
Pros
This 4-step acne treatment kit is formulated to naturally help clear skin.
Helps prevent future breakouts.
As a 4-in-one, this kit helps you to cleanse tone, treat, and protect your skin from acne.
Works for men, women, and teens.
The cleanser has salicylic acid and probiotics, which helps to cleanse the skin and replenish good bacteria, respectively.
Infused with green tea, which helps soothe the skin all while reducing redness.
The toner is effective and gentle. It is also infused with witch hazel and willow bark that aids in clarifying and preparing the facial skin for treatment.
The toner results in a brightened and purified skin thanks to the multi-fruit acids.
Infused with sulfur for maximum strength acne spot treatment, which aids in reducing blemishes all while eliminating acne.
One can apply it as an overnight treatment as it's lightweight and helps fight breakouts all-night. It also clears congested skin.
Made from natural ingredients.
Cons
There is no moisturizer included in the kit.
Slightly expensive.
7.Proactiv 3-Step Acne Treatment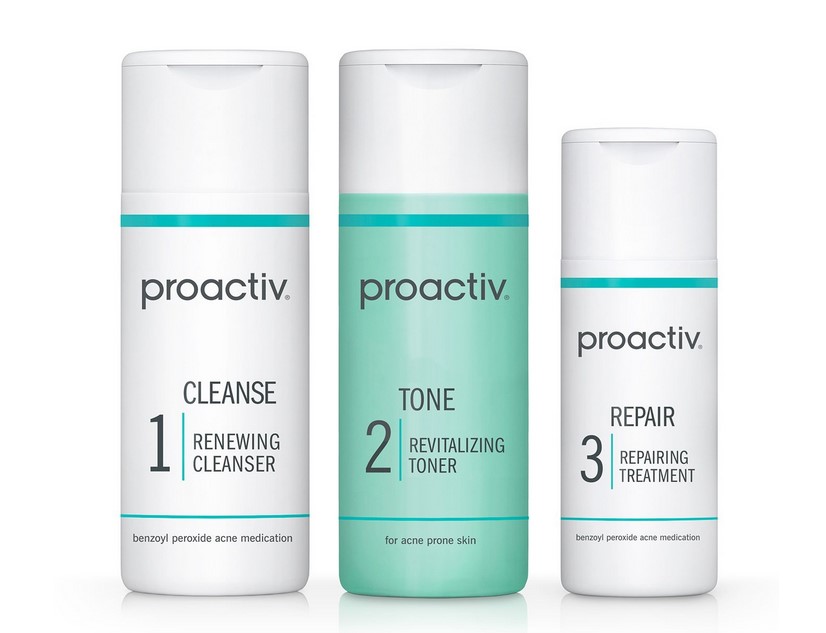 Like the NxN Acne Treatment Kit, the Proactiv acne treatment also comes as a kit that uses three bottles to treat acne. Unlike the NxN Acne Treatment kit, the Proactive 3-Step Acne treatment kit includes a moisturizer and it works wonders.
Pros
It uses a 3-kit bottle to attack and treat your acne.
Comes with a moisturizer included, which makes it the right choice for men with dry skin.
Works for all skin types.
Best suited for inflammatory and comedonal acne types.
It has three primary ingredients – Benzoyl Peroxide, Hyaluronic Acid, Glycolic Acid.
Well-suited for men who want the best possible acne treatment.
The cleanser uses benzoyl peroxide and chamomile to eliminate debris and dirt. It helps soothe your skin when applied respectively, while the hyaluronic acid helps your skin retain moisture and avert any dryness.
The toner in the pack helps to revitalize your skin by making it feel refreshed as well as balance your skin tone thanks to the glycolic acid.
The repairing treatment bottle is infused with benzoyl peroxide, which works to eliminate any deep-rooted impurities, thus preventing the reoccurrence of acne on your face.
Cons
It's pricy.
The bottles are small and need frequent replacing.
8.Odacité – Mint + Green Tea Treatment
If you are keen on getting an acne treatment that does not use any chemicals, then we would recommend the Odacité – Mint + Green Tea. This treatment is beneficial for men with oily skin who are prone to acne.
Pros
It has a healthy ingredient list that is mostly natural – Antioxidants, Green tea extract, Salicylic-acid, Mint, Aloe vera, Green tea.
Helps in purifying and hydrating your skin by clearing any facial mist all while infusing purifying actives on your skin.
The willow bark ingredient helps to clarify any pimple-prone skin while reducing the appearance of pores.
The Green Tea ingredient works to deliver immensely powerful antioxidants that help reduce dullness and remove excess oil.
The aloe vera ingredient provides your skin with optimum hydration.
Made from the finest ingredients which work together to improve the look and feel of your skin, all while leaving it refreshed.
Odacite does not test any of its ingredients on animals making its products suitable for vegans.
They are certified by PETA.
A perfect selection for people whose skin is prone to acne breakouts.
The mint smell is quite nice, and it can be used during the day and night.
Cons
Final Thoughts
Treating acne not only requires the right products but patience as well. There are various types of acne. As such, it's essential to understand the type of acne you suffer from so that you can get the best treatment for it. In addition, it's important to consult your doctor before starting an acne treatment, especially if you are using other forms of treatment.
Another thing to consider when getting an acne treatment is your skin type. Certain acne treatment creams or pills aren't suited for specific skin types. For instance, company A might have the best acne treatment but it is suited to oily skin, while company B might have the best acne treatment but suited to people with dry skin. Knowing your skin type can help you get the right treatment.
Also, consider the acne treatment type. Today, you can opt to use scrubs pads, serum/cream, pills, multi-step formulas, face wash, or pills for acne treatment. Finally, consider the ingredients used in your preferred acne treatment and ensure that your skin doesn't react badly to any of the ingredients.