Acne can hit at any age. While it tends to be a lot more common in teenagers as well as menopausal women, it is estimated that about 50 million people suffer from acne in the United States alone. Acne occurs as a result of hormonal imbalance. When skin glands generate more oil than normal, the pores get clogged thereby allowing pimples and bacteria to grow.
Pimples occur in different depths and forms such as whiteheads, blackheads, nodules, and cysts. Research has shown that medications that contain benzoyl peroxide as well as oral drugs that have vitamin A or even antibiotics such as tetracycline, all work well to clear acne. However, for you to get the best results when treating your acne, it's important that you first rule out any underlying causes for your breakouts.
In this guide, we take a look at the best vitamins for acne treatment.
1.Clear Skin Advanced Vitamin Pack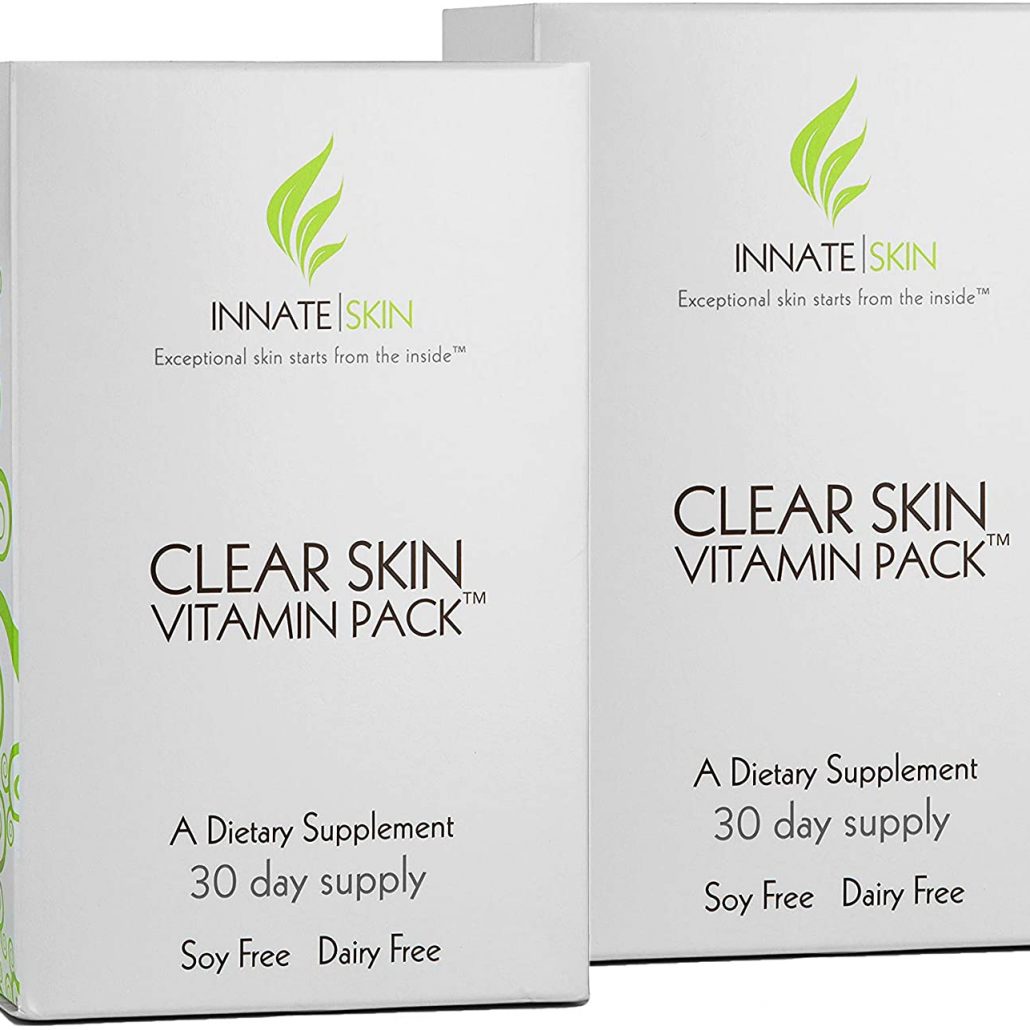 The Clear Skin advanced vitamin pack from Innate Skin is a good vitamin supplement that comes infused with different vitamins to help fight acne. This vitamin pack offers a 60-day supply that is ideal for adults and can be used by both genders – male and female.
Pros
It's infused with a wide variety of ingredients such as vitamin A, C, D3, E, among others that are known to effectively fight acne.
Boasts of being the best vitamin for acne thanks to the superior ingredients used.
It gives your body the needed nutrients – zinc picolinate and zinc – to help clear and fight cystic acne.
This Clear Skin vitamin pack doesn't treat the acne symptom but the problem from the root.
This product has been manufactured in the United States and packaged in facilities that are compliant with Good Manufacturing Practices and is NSF-certified as recommended by the Food and Drug Administration.
Can be bought with other Clear Skin products and used simultaneously in the treatment of acne.
Can be used to treat all kinds of acne – cystic acne, genetic acne, hormonal acne, among others.
Cons
Results are not immediate as they can take as long as up to 60 days.
2.OLLY Flawless Complexion Gummy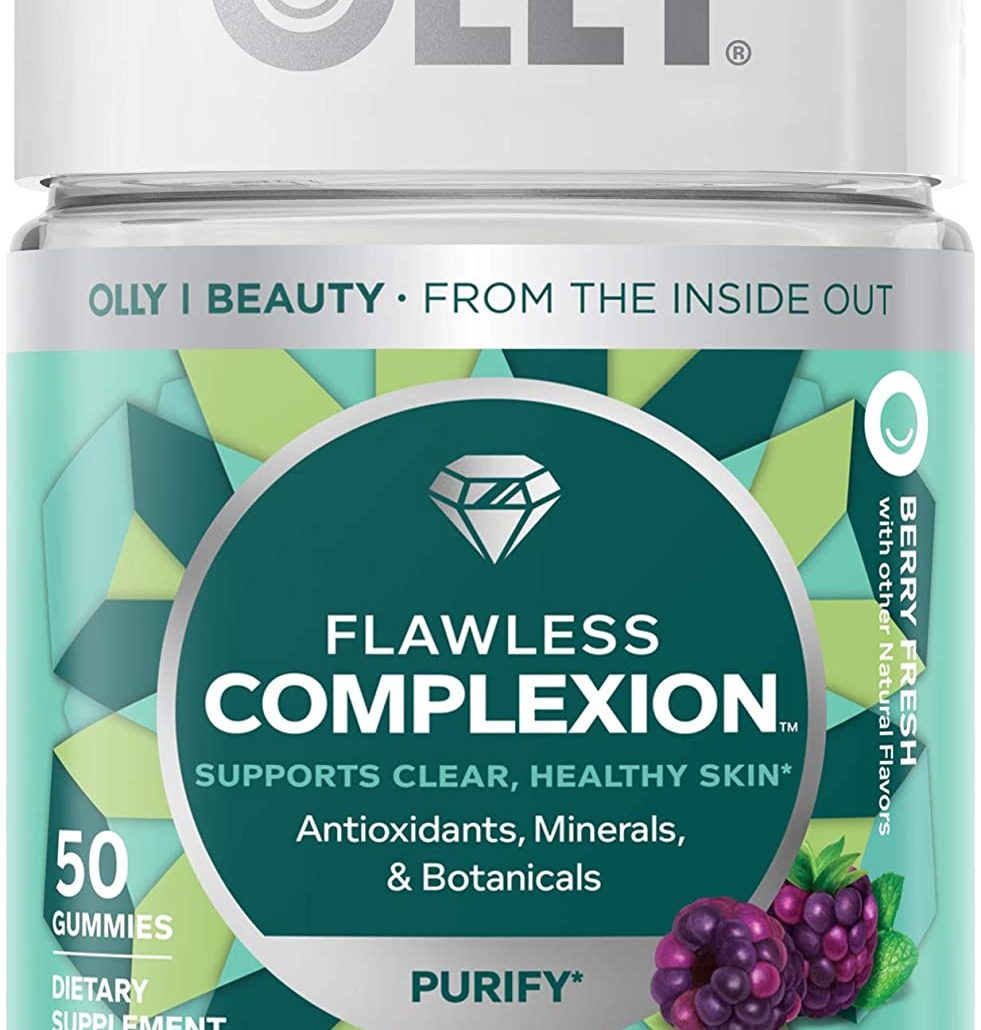 If you dread swallowing supplements, then these OLLY Flawless complexion chewy gummies might be ideal for you. They are also available in different styles to suit your skin's needs. Similarly available products are boosting skin resilience gummies and healthy hair gummies.
Pros
They are chewable tablets which work perfectly well for people who don't like swallowing supplements.
50 gummies that can last you up to 25-days of use, leaving your skin looking fabulous and fresh.
Comes packed with nutrients that are necessary for a healthy skin, thus helping support a clear complexion.
Its infused with vitamin E, zinc, vitamin A, as well as botanicals that help improve your skin's health every day.
The vitamin A and E combination work well to support a clear complexion as well as fight off any free radicals.
The integrated selenium helps in detoxing the cells while zinc helps support the growth of new skin tissue's that are healthy.
These supplements are easy and fun to take because they are naturally chewy and tasty.
Besides being naturally delicious, these gummies are also gluten-free and scientifically formulated.
It is quite affordable given the various vitamins integrated into making these gummies.
Cons
It has a strong smell, which may not be ideal for everyone.
3.Garden of Life Zinc Supplements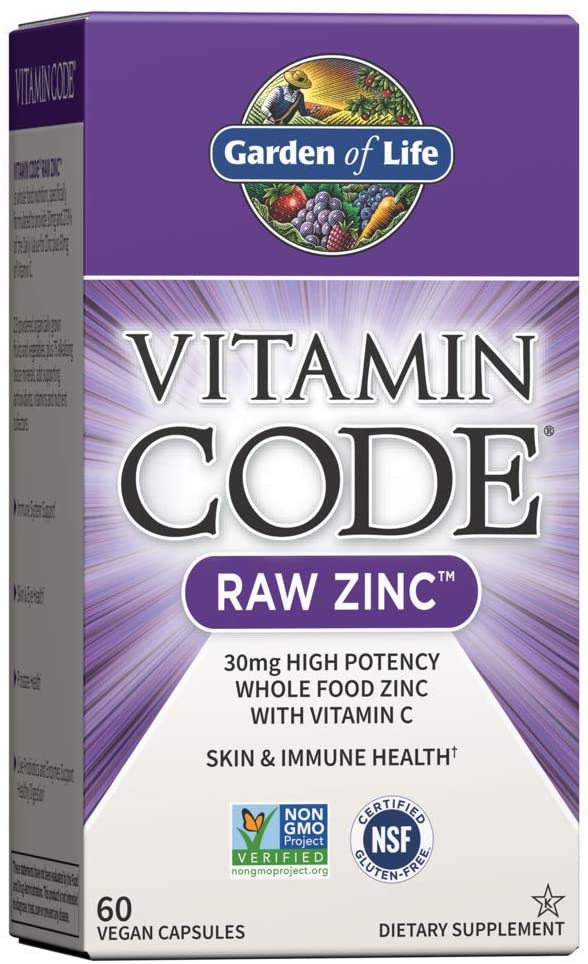 This zinc supplement from Garden of Life is one of the best vitamin supplements for people suffering from hormonal acne. This product contains natural and organic products that make it vegan friendly. Its ingredients are also free from any fillers, preservatives, or artificial colors.
Pros
60 vegan capsules that can last you up to a month's use.
Made from natural and organic ingredients that make this acne vitamin supplement vegan friendly.
 Besides helping improve the health of one's skin, it also helps boost one's immune health.
The raw zinc and raw vitamin C ingredients work together, thus allowing for effective nutrient utilization and absorption.
Has additional vitamins, antioxidants, and natural cofactors that help the body to naturally recognize the nutrients.
Uses raw zinc, which are developed without high heat and don't have any filler or synthetic ingredients. Raw zinc help support your system, skin, prostate, and eye health.
Helps with digestive support thanks to the plant-based zinc vitamin that contains raw enzyme and probiotic.
Perfect for cutting short any flu or cold symptoms.
You will be buying from a brand that is able to trace each of its ingredients. They also know the farming practices that helped cultivate its products as well as where it came from, how the farmers are compensated etc.
Cons
Some users complained of mouth sores after using this product.
4.Lerosett Acne Vitamin Supplements
This Lerosett ClearPoint supplement by Gunilla of Sweden is another excellent choice for anyone looking for an acne vitamin supplement for cystic or hormonal acne, blemishes, pimples, breakouts, and oily skin.
Pros
The Lerosett acne vitamin supplements have been around since 1987 and have been trusted and recommended by skin care professionals and dermatologists for more than 30 years.
These supplements help clear cystic and hormonal acne, oily skin, blemishes, pimples, and breakouts.
It has a success rate of over 80 percent, especially when used for prolonged periods of time.
Lerosett boasts of a 10-year record of happy and satisfied users.
This product is unisex, non-GMO, gluten free and vegan friendly.
It helps to significantly cut down the production of oil – the number one cause for acne development – by increasing the creation of Coenzyme A, which is an enzyme that controls the production of oil through the sebum gland.
It is a well-trusted brand that is used by top Hollywood celebrities.
Lerosett guarantees a 100 percent satisfaction guarantee or a full refund within 60-days if you are unsatisfied with this product for whatever reason.
It's a WBENC certified company that is owned by women.
Cons
They are not suitable for people with dry skin type.
5.Solgar Chelated Zinc Supplements
If you are looking for a supplement that supports healthy skin and helps fight adult acne, then look no further than the Solgar Chelated Zinc supplements. In addition, these supplements are gluten-free, GMO-free and vegan friendly.
Pros
Quite affordable for a pack of 250 tablets.
It does not have any flavor.
Features a chelated form of zinc that helps boost optimal absorption.
The zinc antioxidants found in these supplements help support a healthy immune system, DNA formation as well as cell growth.
Zinc offers collagen support, which contributes to healthy skin, hair, and nails as well as prevents the formation of wrinkles and fine lines.
This product is gluten-, and kosher-free, non-GMO.
 Solgare chelated zinc supplements are also ideal for vegans as they are free from sugar, dairy, wheat, sodium, sweeteners, yeast, and artificial flavors.
Solgar has been in business for over 70 years, tirelessly producing nutritional supplements that have been made using the finest and professionally researched ingredients.
It's available in two different packs – 100 and 250 count.
The glass packaging can be recycled, which helps protect the environment.
Has positive reviews on Amazon from past and current users.
Cons
Some users have complained about the size of the tablet.
6.SmartyPants Daily Gummy Multivitamin
Suppose you have a teenager who is battling acne and you are considering a vitamin supplement for him. In that case, these SmartyPants Daily Gummy multivitamin supplements should be on top of your list. They are unisex and have a good number of acne-fighting ingredients integrated in the formula.
Pros
Perfect acne supplements for teenagers.
It is suitable for both teenage boys and girls battling acne.
Features new premium ingredients such as Vitamin B6, Choline, Beta Carotene, and Vitamin K2.
The SmartyPants gummies are free of eggs, milk tree nut allergens, peanuts, shellfish, fish allergens, gluten, wheat, and soy.
It does not require any refrigeration and has been lab-tested by a 3rd party lab.
SmartyPants has various flavors of this product, including cherry, orange, and lemon-lime.
No artificial flavors, sweeteners, or colors have been used in making these supplements.
Features 20 essential nutrients that all work together to improve and fight acne while also boosting your immunity.
Made from high-quality ingredients that are essential for any teen body.
You will be buying from a brand that has received Clean Label Project's Purity award, which is awarded to products that have the highest rating for product value and purity.
Cons
The packaging for this product may vary.
7.Nutricost Niacinamide Vitamin B3 Supplements
Another unisex acne supplement product is the Nutricost Niacinamide Vitamin B3. The bottle package has 240 capsules, with each capsule having 500mg of Vitamin B3. Similar to other vitamin supplements on our list, this product is also gluten free and non-GMO.
Pros
Gluten free, soy-free, non-GMO, and is packaged in a GMP compliant facility that is registered with the FDA.
Each bottle contains 240 capsules that each have 500mg of vitamin B3.
Made from the highest quality vitamin B3.
Allows you to enjoy the full benefits of Vitamin B3 without the "Niacin Flush."
They are easy to take capsules, and the bottle lid may either be white or blue.
It has no negative mental side effects or gastro problems.
Helps boost one's energy both mentally and physically as well as increased attention.
Aids in the fight against acne as well as wrinkles and fine lines on the skin.
Some dermatologists recommend this product to help prevent skin cancer.
Prolonged usage results in glowing skin.
Helps fight various body ailments and has a trail of positive users from customers who have purchased it.
 It comes in two sizes and is quite affordable.
Cons
Given they are gelatin caps and there is no clarity on where the gelatin is derived, they may not be ideal for vegans.
8.Bronson Vitamin A Supplements
The Bronson Vitamin A supplements is a high potency soft gel tablet that helps support your immune system. It also promotes healthy vision as well as healthy reproduction and growth. Bronson guarantees a 100 percent satisfaction guarantee, or you get your money back.
Pros
It is a high potency soft gel that is highly effective
 Excellent vitamin A supplement that supports healthy reproduction, growth system, healthy vision, as well as boost the immune system.
It's non-GMO and is laboratory tested in Bronson's state-of-the-art cGMP facility based in New York.
The brand has been continuously mentioned since its establishment in 1960 by top medical professionals.
You will be buying from a brand that was pioneered by a group of pharmacists who observed the benefits of mineral supplements and vitamins.
This product has a 365-day money back guarantee – this gives you peace of mind as you can order and get your money back if you are unhappy with the products.
Offers high quality vitamins that are not only pure but are also backed by science.
The vitamin A palmitate used in this product is beneficial to the skin and eyes.
Cons
This treatment cannot be used every day due to the high potency of vitamin A.
Final Thoughts
Acne treatment varies as these can come in the form of oral drugs, face wash, and natural treatments. It can be difficult knowing what treatment option will work for you. If you are battling acne, it's important that you first speak with your dermatologists to get the best treatment plan and medication. While acne occurs when the pores clog as a result of dead skin cells and oil, there could be other underlying causes for your breakouts, such as a weak immune system, allergies, and hormonal imbalance.
Depending on your acne's cause, there are a myriad of acne treatments that you can incorporate into your skincare routine. Vitamins can help treat your acne and can be easily purchased over the counter. Additionally, they can help control and reduce acne breakout as well as keep your skin healthy over time. This is very crucial as unhealthy skin acts as the perfect breeding ground for all types of acne. With its many benefits, we hope you can incorporate any one of the reviewed vitamins into your skincare routine.